Category Archives
"advocacy"
In an era of stringent cutbacks in state and federal assistance, thoughtful engagement in public policy is a critical tool for advancing (and sustaining!) mission-driven initiatives. If you really think about it, advocacy is at the core of philanthropy by:
investing and initiating innovative strategies to address societal needs;
facilitating and strengthening community commitment;
illuminating awareness and evidence about societal issues and encouraging collaborative-based solutions; and most importantly,
embodying a spirit of courage and unwavering voice for inspiring positive change.
CivicAIM fully embraces advocacy as a strategy to advance philanthropic missions. We have witnessed first-hand the multiplier effect advocacy has on influencing policy debates and ultimately, creating long-lasting, broad-based change. Learn more on how CivicAIM has helped set a precedent on empowering philanthropic leaders to engage and shape public policy.
Is advocacy in your grantmaking playbook?
At minimum, policy needs the input of philanthropy and our partners. Equally, philanthropy has an obligation to raise the awareness of the issues and populations we serve. Philanthropy can be a resource to policymakers – and not the check writing kind — but an objective, thought leader with the ability to facilitate time, talent and expertise. Foundations play a central role in improving communities and similar to policymakers who make difficult budgetary decisions, funders have to make decisions about where to invest limited resources that will have the most impact. This experience is knowledge policymakers want to hear.
---
"We want to be a resource for legislators and we want them to understand the opportunities and the limits of philanthropy."
Erica V. Ekwurzel, CivicAIM as quoted in Austin American-Statesman
---
So whether you have yet to embark on understanding how advocacy can bolster your philanthropic aims or you already leverage advocacy as an avenue to move the needle, we leave you with these insightful resources to help foster consideration for thoughtfully engaging in advocacy work:
Words to Give By: Leading Voices in Advocacy Funding (cosponsored by Council on Foundations and Alliance for Justice)
Philanthropy Advocacy Playbook: Leveraging your Dollars (Alliance for Justice)
Investing in Change: A Funder's Guide to Supporting Advocacy (Alliance for  Justice)
Our hope is you find these resources both inspiring and informative.  CivicAIM welcomes engaged civic leaders who value the role philanthropy plays in laying the  groundwork for a more interactive democracy. Call us today as we stand ready to help identify and customize an advocacy strategy to advance your work.
The title of this month's blog is indicative of the umbrella theme of this year's Council on Foundation Annual Conference: The Future of Community. The quote is more accurately credited to two slam poets of Split this Rock, and in my opinion,  their words rekindled the core message of philanthropic funders and agents of social change from across the world who stand at the forefront of innovation, explore creative ways to advance the common good, and find solutions for complex issues in society.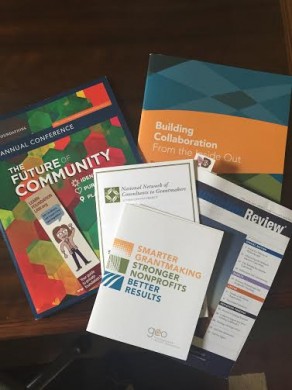 Refueling our cup of Inspiration & Knowledge
It is professional gatherings like these that provide stretch and inspiration to the work of CivicAIM. To be among 400 grantmaking entities, scholars, researchers, and just plain wickedly, thoughtful practitioners from across the world was a philanthropy wonk's dream come true. The conference and its networking provided opportune time for purposeful exchange of ideas, peer reporting and reflection on strategies dedicated toward achieving the greatest impact, and a bird's eye view of social sector trends. The focus of the 72-hour gathering was to promote best practices so that one day these might become common practices of action and influence for social good.
Similar to what CivicAIM preaches to its clients to invest in continuous learning, we take this practice to heart so our practices and counsel strengthen and add value to both our clientele, and the field of grantmaking.
Intriguing conference take-aways to incorporate in your Grantmaking Practice
Captured below are a few highlights of knowledge gleaned and resources worth taking into consideration for your own journey of effective and intentional grantmaking:
These are only but a few of the many gems of knowledge and networking taken from my participation at the Council on Foundation's conference. I hope in some small way they may spur inspiration in your own practice, and more importantly, add breath to the world you've been preaching about.  –Erica V. Ekwurzel